Therapy for Personal and Family Growth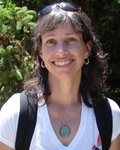 Marena is a licensed clinical social worker who has been practicing psychotherapy in Chicago since 1995. She received a Master's of Clinical Social Work from Loyola University Chicago and trained in several clinical settings. Marena is trained in the use of cognitive behavioral therapy techniques to treat different types of anxiety and mood disorders. She has had particular success in helping individuals of all ages overcome Panic Disorder and Social Phobia. She is also well-versed in many different theoretical approaches, including psychodynamic, family systems and mindfulness approaches, and she draws upon them to form individualized plans with each client to address the client's particular areas of concern. She has engaged in extensive training for treatment of trauma symptoms.  Marena conducts a comprehensive assessment of each individual's life situation and works with the client to identify goals for therapy. Her style is highly collaborative and supportive. She utilizes a strengths-based approach and offers a candid, fresh perspective to which her clients respond with enthusiasm.  She has maintained a private practice since 2005 and worked in the department of Psychiatry at Children's Memorial Hospital for eleven years. She continues to teach at Children's Memorial as a volunteer faculty member.
Clinical Interests
Anxiety and mood disorders, trauma-related symptoms, grief, life transitions, relationship difficulties, and parenting challenge.   Marena works with children, adolescents, adults and couples.
Education:
BA in Psychology and Employment Relations, Michigan State University
Master of Social Work, Loyola University Chicago
Licensed Clinical Social Worker, state of Illinois
Fees & Insurance:  Marena offers a free phone consultation for potential clients who would like to obtain more information about her practice and approach. She is a preferred provider for Blue Cross Blue Shield and bills the company directly for clients with PPO coverage. She also provides statements for individuals having other insurance coverage who wish to submit claims for out-of-network reimbursement of her fees.
Contact:  (773) 341-4263
Email: marenasabo@gmail.com